In addition to being one of the country's foremost psychics and remote viewer's, Thomas is also an Ordained Spiritual Minister and holds a Religious Science, Doctor of Philosophy Degree, (R.Sc,Ph,D.).



"My goal is your self-empowerment, psychological and spiritual development. I pledge to work for the highest well-being of all concerned". - Thomas



Seeing your life within a broader context, shifting the patterns that ail you, and moving forward in the most significant ways to improve your life are the ultimate goal. Building and strengthening personal relationships is the core of what I bring to you.

Thomas Blackwolf, has previously lived in Southern California and recently moved to a ranch in the Sacramento foothills of Northern California, where he works to help you build a better life with all who surround you.
Contact us TODAY! and make a phone appointment to speak with Thomas Blackwolf personally or email your questions, the choice is yours!

Our rates are very reasonable. Thomas believes you should not need to over pay for personal and spiritual development. Let Thomas assist you in your personal search and provide you with a better understanding of how you can build a stronger bridge between the ones you love!

Choose your type of reading, 30 or 60 minute personal phone reading or email questions.
Then click on the "Buy Now" button. Its that easy!
Make an appointment
today and start living the life

you

deserve!
Make the choice that is best for you!
​60 Minute Psychic Reading with Thomas for only $35.00​
30 Minute Psychic Reading with Thomas for only $19.99
​2 Emailed questions answered for only $9.99
Appointments available Monday - Friday
from 10:00 AM until 2:00 PM
Pacific Time
"I was skeptical to have a reading and never had one before, Thomas was so accurate in what he was saying I got goose bumps. I would recommend him to anyone wanting a TRUE spiritual reading".
- Ashley F., San Francisco, CA

"Thomas opened my eyes to my relationship with my husband in ways I did not think of before. A man's perspective on a relationship is so much different than what I was told by other women psychics. Thomas told me the how's and why's he acts the way he does. THANK YOU Thomas for all your help!".
- Peggy G., Miami, Fl.

My partner and I have been together for 5 years. Like most couples we have our ups and downs. I talk to Thomas often to gain insight on how to better myself and my relationship, I love talking to him, he makes me feel comfortable with who I am and what I need to improve to grow our relationship".
- Eric L., Sacramento, CA.

My mother passed away recently and I spoke to several "psychics". They were B.S. to put it blunt. I stumbled onto Thomas Blackwolf's website and something told me to call him. I never regretted it. His reading was so very touching it brought a warm comfort to my heart. If you want a REAL psychic reading, don't call "Mistress Susie" or some other fly by night. Call Thomas and have the real deal!. Thank you Thomas for everything you have done for me!".
- LaDonna R. Greenbay, WI
Here are what other people have said:
'>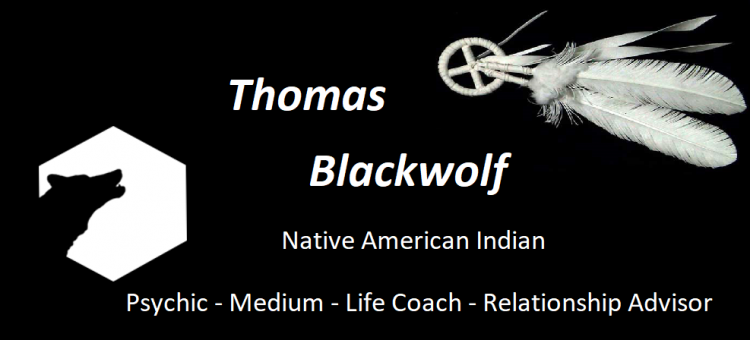 Thomas has been featured in the past, on many nationally televised shows across the U.S. and Canada. He has also been featured in "Today's Psychic" magazine.




A psychic since an early age, Thomas Blackwolf has honed his gifted skills to focus his remarkable talent. He provides accurate and touching personal readings and relationship advice, that will leave you comforted and fulfilled.
"May God walk with you in your travels, spirit whisper comfort in your ear and family bring you love within your heart"
-Thomas Blackwolf